Phrases for shopping in italian – Video lesson
---
Shopping in italian language
Hi friends, in this new video lesson, we'll talk about shopping. We'll learn useful phrases and words for shopping in italian. Luca , today, is at the clothes store in Italy  to buy a jacket. He'll explain how to speak in italian when we are in a clothes shop.
Watch video lesson !
Text :
Dialogo 1 –  Shopping in italian

Ciao amici !
Sono di nuovo qua per aiutarvi ad imparare l'italiano in modo semplice e divertente.

In questa lezione, ho deciso di insegnarvi alcune frasi che si possono utilizzare quando si va a fare compere, i più moderni usano dire "fare shopping".

Noi italiani, siamo molto attenti alla moda, alle nuove tendenze, ci piace vestire bene e la maggior parte di noi, adora andare a fare shopping.

Vediamo come dobbiamo comportarci quando ci troviamo in un negozio di abbigliamento in Italia.

Commessa – Salve

Cliente – Buongiorno

Commessa -Come posso aiutarla ?

Cliente – Sto cercando una giacca elegante, la dovrei indossare per una cerimonia.

Commessa -Certo ! Le faccio vedere.

Cliente – Grazie.

Commessa -Che taglia indossa ?

Cliente – Solitamente, porto la 52.

Commessa – Bene ! Ha delle preferenze sul colore ?

Cliente – Si, mi piace molto il blu.

Commessa – Ok ! Le piace questo modello ?

Cliente – Si, posso provarla ?

Commessa -Certamente, i camerini sono proprio dietro di lei.

Cliente -Grazie.

Cliente – Mi sta bene, la prendo, è proprio il modello che fa per me.

Commessa – Perfetto signore, può pagare alla cassa.

Cliente – La ringrazio.
DIALOGO 2 – Shopping in italian
Commesso – Buongiorno, desidera ?

Cliente – Vorrei provare una gonna come quella in vetrina.

Commesso -Che taglia porta ?

Cliente -La taglia 46.

Commesso -Preferisce la gonna rossa o quella di tessuto fantasia? Sono entrambe della stessa linea ma cambia solo il colore.

Cliente -Quella rossa. Posso provarla ?

Commesso -Si, là c'è il camerino.

Cliente -La gonna mi piace molto ma è un pochino stretta.

Commesso -Va bene, le do una taglia in più.

Cliente -Grazie. Questa va bene. Vorrei anche una camicetta.

Commesso -Preferisce quella gialla o quella nera ?

Cliente -Ho già una camicetta nera, preferirei quella gialla.

Commesso -Perfetto !

Cliente -Quanto costa ?

Commesso -65 euro.

Cliente -E' un po' cara, vorrei spendere meno.

Commesso -Mi dispiace, al momento è la più economica che abbiamo. Però tra 15 giorni inizieranno i saldi.

Cliente -Bene, allora prendo solo la gonna e per la camicetta tornerò per i saldi.

Commesso -Come desidera signora, le occorre qualcos'altro ?

Cliente -No grazie, a posto così. Potrei pagare col bancomat ?

Commesso -Certo, accettiamo pagamenti in contanti, con carta di credito e col bancomat.

Cliente -La ringrazio.

Commesso – Di niente. arrivederci.
RIEPILOGO LEZIONE SHOPPING IN ITALIAN
Bene!
In questa lezione abbiamo imparato come  chiedere ciò che vorremmo comprare in un negozio di abbigliamento.
Dire che taglia indossiamo.
Per esempio : porto la taglia 52.
Per gli abiti si usa la taglia, invece per le scarpe, si usa il numero : Che numero di scarpe porta ? Porto il 42.
Abbiamo imparato anche a scegliere il colore. Vi consiglio di guardare il video sui colori.

Ora sappiamo chiedere se possiamo provare gli indumenti : Posso provarlo ?

E sappiamo chiedere che tipo di pagamento viene accettato in quel negozio.
Posso pagare col bancomat ?
Oppure con la carta di credito.
Possiamo dire : Pago in contanti. Cash.

Se non volete perdere i nuovi video, vi consiglio di iscrivervi al mio canale.

Se il video vi è piaciuto, ricordate di mettere "mi piace" .  Se volete chiedere qualunque cosa, scrivete un commento qui sotto, vi risponderò il prima possibile.

Grazie. Ciao.
Ci vediamo nel prossimo video.
How to say go shopping in italian
Fare spese
Compere
Fare acquisti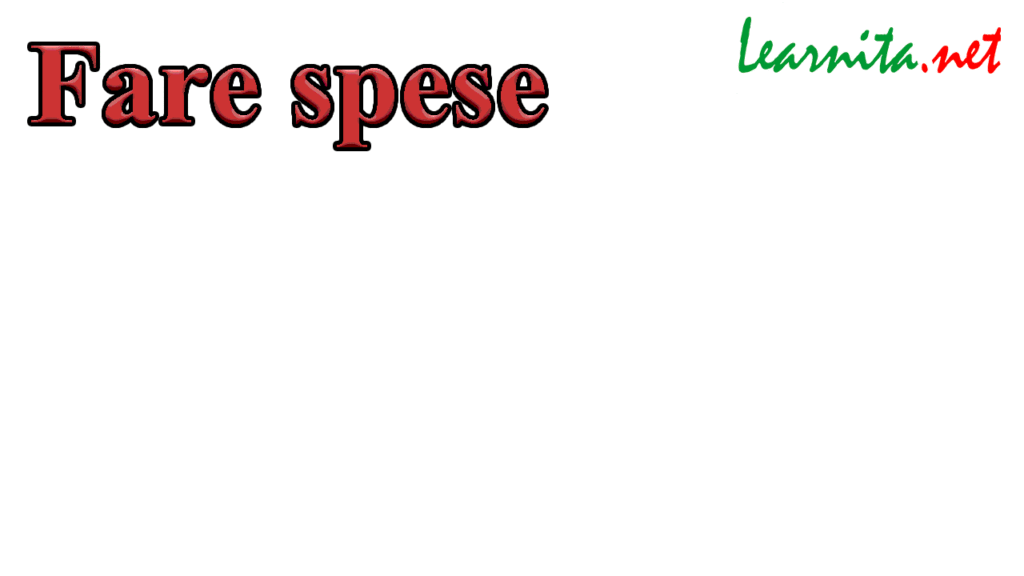 How to say : I'm looking for…
Sto cercando una giacca –

I'm looking for a jacket

Mi servirebbe una giacca –

I need a jacket

Vorrei comprare una gonna – 

I would buy a skirt

Vorrei acquistare una maglietta – 

I would buy a T-shirt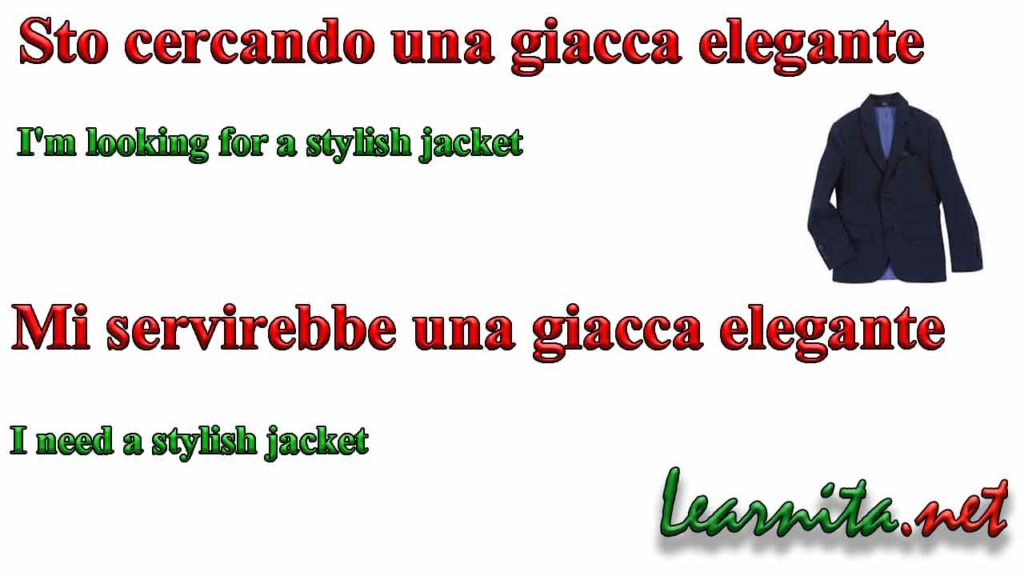 Vorrei provarLA (if the object is feminine- singular )- Vorrei provarLO (masculine – singulare) – Vorrei provarLE (feminine – plural ) – Vorrei provarLI (masculine – plural )
Ti consiglio di vedere la lezione sui pronomi .
I would try it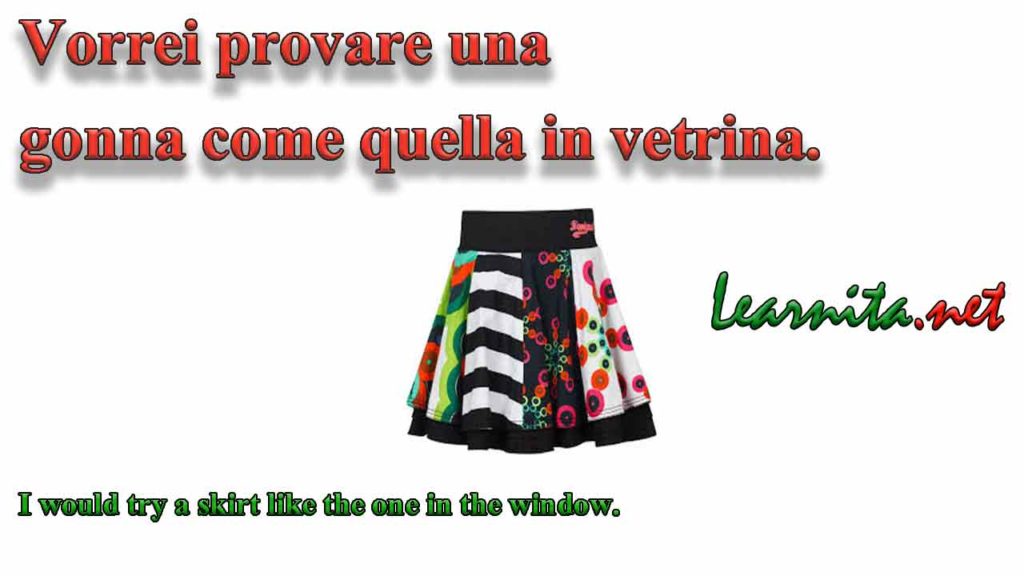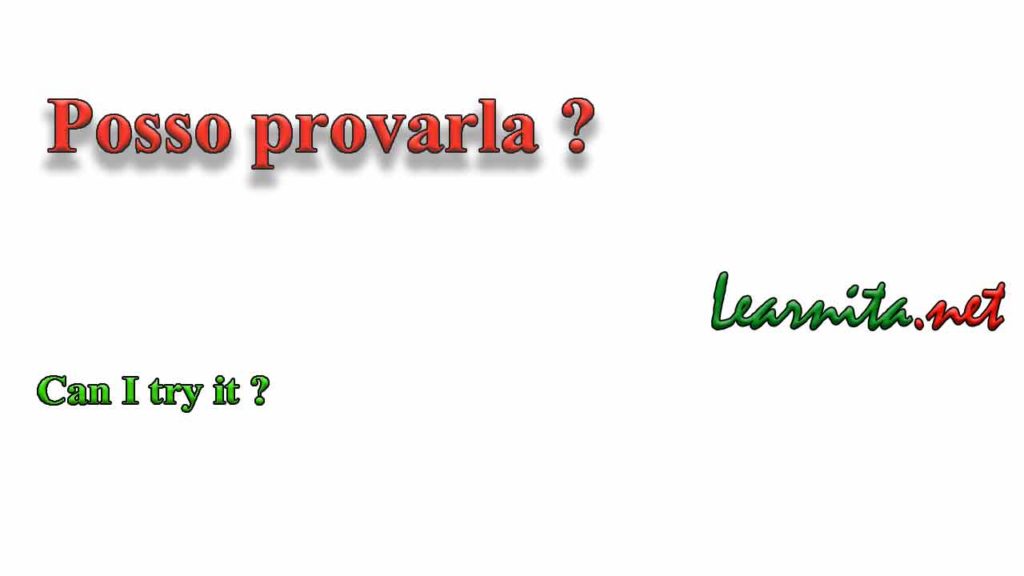 Shopping in italian : Size – Taglia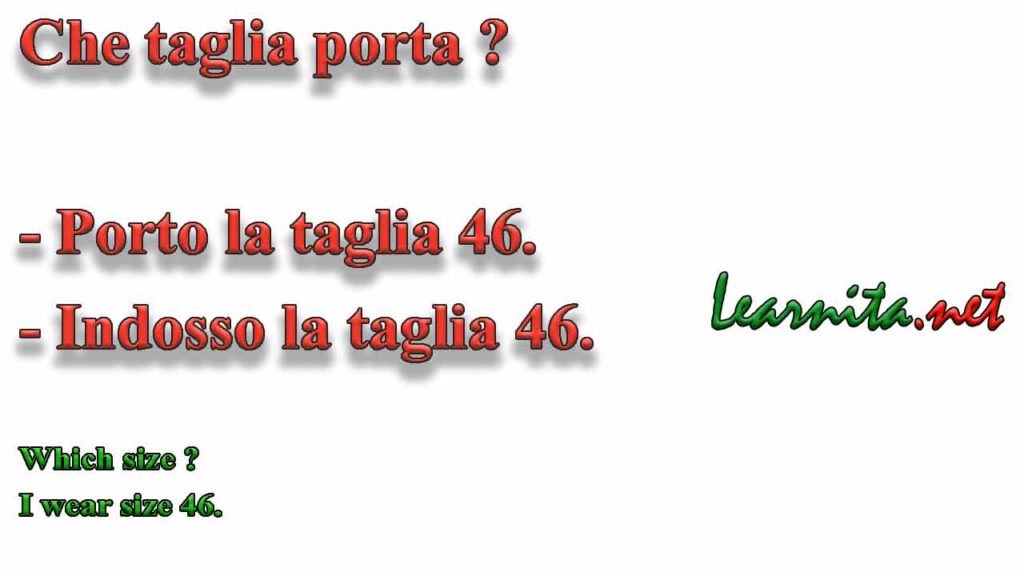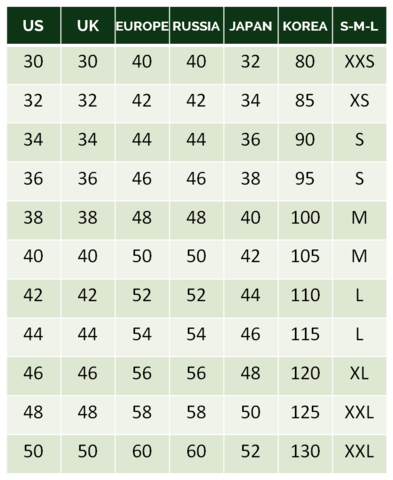 For shoes in Italian we say: Che numero calza ? What number ?
Sizes
la taglia size
ho la taglia quaranta I wear size 40
lungo long
corto short
grande big/large
piccolo small
medio medium
largo wide
stretto tight
il numero di scarpa shoe size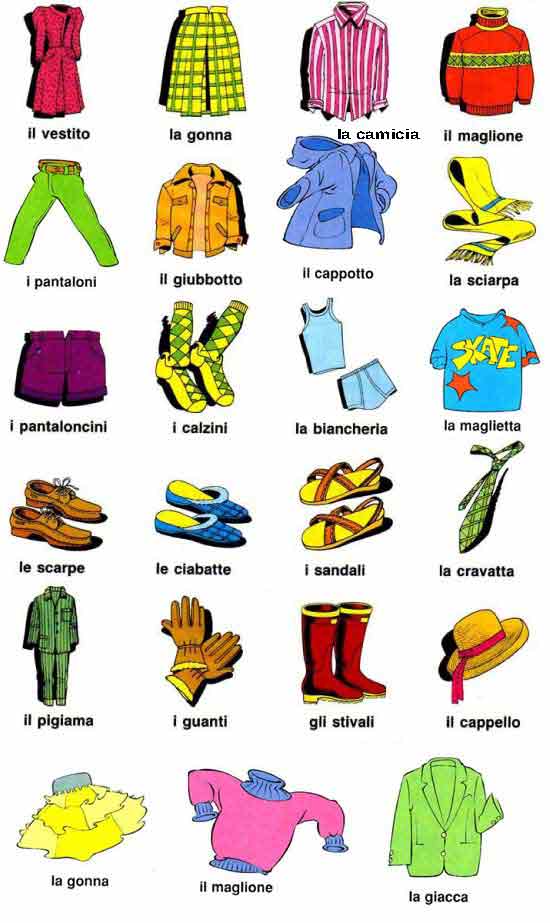 _____________________________________________
Come si chiama l'indumento senza nome in italiano ? Scrivilo nei commenti sotto.
What do you call the garment unnamed in italian ?  Write it in the comments below.
Pagamenti –

Payments
Carta di credito – credit card
Contanti – cash
Bancomat – ATM card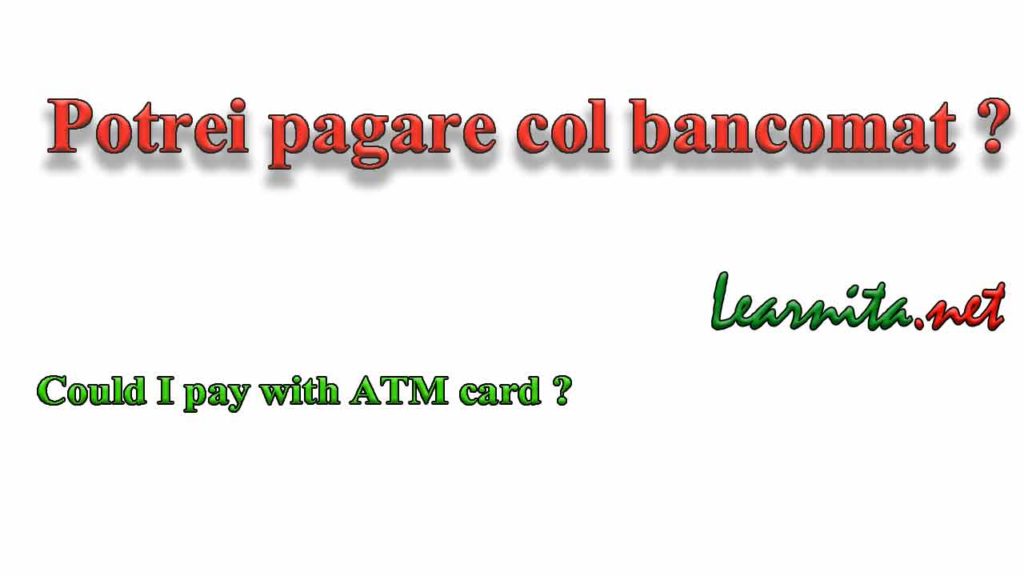 Other things to say when you go to shopping in Italy
è troppo caro

that's too expensive

è più di quanto pensassi

it's more than I thought

sono in saldo?

are these on sale? 

dov'è la cassa?

where can I pay?

faccio la fila qui?

do I queue here?

che sconto mi fa?

what discount can you give me?

posso avere una busta?

can I have a bag?

posso cambiarlo? ho lo scontrino.

can I change it? I have a receipt.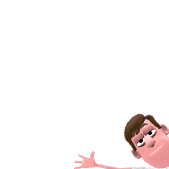 If you want to stay update about new video-lessons, subscribe to my Youtube channel
Se vuoi rimanere aggiornato sulle nuove video-lezioni, iscriviti al mio canale Youtube
Tag:Conversation, Italian lessons, Italian phrases, Italian videos, Italian vocabulary, Italian words